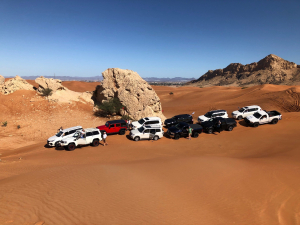 The Austrian Business Council and ADVANTAGE AUSTRIA cordially invite ABC Members, ABC Friends and the Austrian Community in the UAE to the
ABC Desert Tour 2020
Friday, 28 February
(optional overnight stay)
This year we will be visiting the Mleiha Archaeological Centre, the calcaric Sphinx Rock and the Camel Rock surrounded by the scenic red dunes of Sharjah.
After a bit of optional sand cruising, we will stop at the Shinx and the Camel Rock to take some photos and will then head to the nearby Wadi Shawka where we will camp and spend the rest of the afternoon and evening at a cozy campfire enjoying Austrian Leberkäse and Würstl.
Please register  latest by Wednesday, 26 February by following the
REGISTRATION LINK 
PROGRAM
10:00 Meeting Point 1 at ADNOC Service station AL QALA-2 – Maliha Rd – Dubai . Fuel, stock up and get ready
10:30 Departure (sharp)
11:00 First stop, dividing the group into
1. Road Group (street cars) to the Mleiha Archaeological Centre to visit ancient tombs including a camel and horse cemetery in a beautiful setting. Entrance fee is 25 aed for adults and 15 aed for choldre up to 12 yrs
Meeting at the Mleiha Café inside the Museum
2. Desert Group (4×4 cars) to the Deflation Point, followed by a 90 minutes scenic trip around Fossil Rock, group will be divided according to experience and type of 4×4 off-road vehicle.
-> each group will have a knowlegable guide!
12:30 -13:00 Both groups, road group and desert group, meet at Meeting Point 2
Splitting up all interested attendees to the 4×4 cars
13:00 -13:00 Passing by Sphinx Rock to Camel Rock for group pictures
14:00 Back to Meeting Point 2
Everyone back to his/her car, convoy to Meeting Point 3
14:30 Inflating, stocking up, getting ready
15:00 Departure for Wadi Shawka
16:00 Arrival at Campspot
Setting up the camp and BBQ
If you have any questions or suggestions, please let us know by email to office@austrianbc.ae or call/whatsapp +971 50 115 91 38 (Maria Heinser).

IMPORTANT INFORMATION
CAR
For the first part of this year´s desert tour, we will be dividing the group into 4×4 desert group and road group, which can visit the museum. For visiting the calcaric rocks in the red dunes, we will make sure, everyone will be able to enter a 4×4 car. Although the wadi bed is quite rocky, you can enter the campsite with a sedan at low pace. Otherwise we will manage to shuttle.
FOOD & BEVERAGES
Please make sure to bring sufficient water, beverages and food for your own consumption (we will provide some tidbits from our Leberkäse and Sausage sponsor Shaloh Trading/Greisinger) and of course also to share, if you like.
EQUIPMENT
Please bring BBQ equipment, charcoal, wood for the campfire, camping chairs and table, garbage bags, insect repellent, sunscreen, sunshade particularly for smaller kids, and warm clothes. If overnight stay is planned, a tent, mats or an inflatable mattress, cushion and blankets or sleeping bags, flashlights and, spare batteries come handy.
IMPORTANT NOTE
Please note that we are not a professional tour operator and we only provide guidance. This tour, being an entirely private affair, everybody takes full responsibility for him/herself and his/her actions and the Board of the Austrian Business Council or ADVANTAGE AUSTRIA assume no responsibility whatsoever.